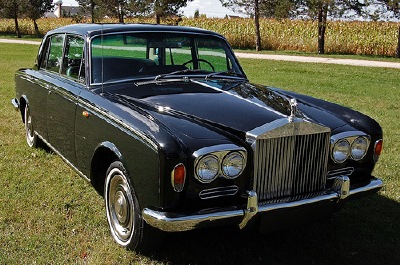 More pictures below!!

1966 One of the first of the Silver Shadow series
(1,797th out of 32,000 built)

This is a VERY original and excellent condition Silver Shadow finished in 2-tone Masons black over Brewster green with antique green Connolly hides. It has hand-painted fine lines to the waistlines and hubcap beauty trim rings finished in contrasting green. This unique combination presents quite stunningly in that during the day the contrast is a very classic look and at night or dim light, the 2-tome combination becomes very subtle giving the car a very formal appearance.

The beauty about these early Silver Shadows is that they are "as the designer intended" – as Rolls-Royce conceived the car without all the safety requirement specifications introduced shortly after. Subsequent Silver Shadows had big changes to the dash board to meet US safety standards, so these early models have a plethora of wood and chrome knobs and switches – sadly, lost on later cars. On this car, the light African burl walnut has all been re-done by expert Rolls-Royce re-finishers; JC Wood & Co. at a cost of some $2,500. An added bonus is that the wood grain itself, by the grace of Mother Nature, is very rich in knots and grain and has a deep glass-like finish. It looks truly stunning.

Being an early car, it has the opening quarter glass on both front doors which is a great feature - a regrettable deletion on all later Silver Shadows. The interior of the car is excellent. The leather has never been re-dyed or replaced and presents in excellent original condition. It is soft and supple and still displays the "toned rubbed leather" from new (original Connolly hide is not 1 color but a base color – in this case green – and then hand rubbed with a darker tone that captures the natural leather grain). Door panels, hood-lining, interior chrome work, gauges and instruments are all in very fine condition.

A Californian car for most of its early life, the body of the car is straight and the finish is in excellent condition. All glass, bright work and chrome finishes are in good condition. The trunk has all its original carpet fitted and is very clean and dry.